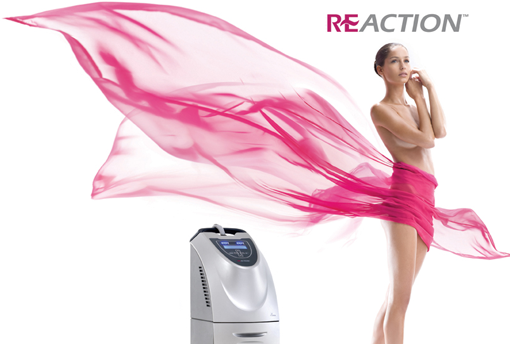 Reaction™  by VIORA combines the mechanism of advanced RF energy and vacuum therapy that work with the body's natural regeneration process to deliver safe and efficient treatments for cellulite, body contouring and tightening of the skin.
As far as trends and buzz words go, "Body Contouring" is the new "black". Believe us when we say, if you think you get pitched the latest and greatest non-invasive cellulite treatments and they seem too good to be true—we understand how you feel. At Skin Care Professionals, we take our time to thoroughly understand and offer products and services that we feel produce results.
Reaction™ by VIORA is the next generation of non-invasive body contouring and skin tightening treatments—offering cellulite treatment and tightening against aging or "lax" skin on the face and body—this machine is your new best friend, after all, tape measures don't lie. By utilizing radio frequency waves in 3 different modes that target all 3 layers of the dermis, the technology also uses a 4th "multi-channel" mode, enabling an accurate distribution effect that travels through all skin layers simultaneously.
Here's what you should expect: visible results after the first treatment, a series of 6-8 courses of treatment that last only that 20 minutes per session.
Providing the best aesthetic treatments for our patients is the key to building trust and long-term success, and we want you to see results.
Experience the Elegance of True Beauty
Call us to schedule your consultation with a Beauty expert today!